Free Help/FAQ (Resources) for Students at Bakersfield College
To help you succeed in your classes and complete your degree! Need help with non-college stuff outside of BC? See the Community Resources page.
Document's web location (to use the embedded links): https://www.astronomynotes.com/student-announce/freeBCstudentresources.htm
The Writing Center offers free help with all steps of the writing process, except proofreading. Professional writers help with anything from understanding an assignment, to thinking out your essay, to writing it. The Writing Center at the Panorama campus is located in Center for Student Success 193C, second floor and can be contacted at (661) 395-4735 or by email at writingcenter@bakersfieldcollege.edu. Walk-ins or pre-arranged appointments are welcome. Hours: Mondays through Thursdays 8:00 am - 7:00 pm and Fridays & Saturdays 8:00 am - 12 pm (noon). The Writing Center at the Delano campus is located in Room 1101 and can be contacted at (661) 720-2019. Hours: Mondays through Thursdays 9:00 am - 6:00 pm with an one-hour break 1:00 - 2:00 pm. The Writing Center at the Rural Sites (currently, Arvin High and Shafter Learning Center) can be contacted at (661) 395-4435. Hours for Rural Sites: Arvin High: every second Monday and every fourth Thursday 3:00 to 7:00 pm; Shafter Learning Center: every second & fourth Thursday 9:00 am - 5:00 pm.

The Student Success Lab offers FREE reading, writing and math guided tutorials. The lab is open Mondays+Thursdays at 8:30 am - 6:00 pm, Tuesdays+Wednesdays at 8:30 am - 7:00 pm, and Friday 8:30 am - 12:20 pm. It is located in CSS 143. The tutors are exceptional! New computer technology, upgraded PLATO software, and a friendly atmosphere are just some of the reasons to come to the Student Success Lab. Here's one more reason: It will improve your writing! Call for an appointment: (661) 395-4654 or email the Coordinator Kim Nickell at knickell@bakersfieldcollege.edu. Available for credit or no credit:
ACDV B201 abc

(0.5/1.0 unit or FREE no credit): Individualized/diagnostic math, reading, and English learning modules. Individually prescribed lessons in spelling, reading, vocabulary development, study skills, critical thinking and/or English. Supervised repetition and practice in the laboratory on assigned tasks which may range from general communication skills to specific problems.

ACDV B281 abc

(FREE no credit): Computer-assisted tutoring courses. Provides tutoring in various academic subjects, conducted in a computer lab, to augment classroom instruction. Open entry/open exit.

The Math Lab offers free drop-in tutoring for Math 50, 60, and 70. It is in Center for Student Success 140 right next to the Student Success Lab. Workstations are available for students to work on their homework at tables or online on computers. The Math Lab also support the self-paced hybrid math classes in Math 50, 60, and 70. If students have questions about these classes they can come in and ask the faculty and assistants or call the Math Lab at 395-4530. Fall & Spring hours are Monday 8:00 a.m. - 5:50 p.m., Tuesday through Thursday 8:00 a.m. - 8:50 p.m. and Friday 8:30 a.m. - 12:20 p.m.
The Tutoring Center at the Panorama Campus is upstairs from the Student Success Lab in room CSS 203. The Tutoring Center provides FREE tutoring to all students by appointment. Tutoring by appointment is available at the Delano Center in Room 1101. Tutoring at the Southwest Center is in Room 208. Tutoring is offered for multiple courses and provided by trained, certified student tutors.
The Education Department offers numerous classes that will help you succeed in this class, in college, and in life. They include, but are not limited to the following; study habits, problem solving, reading for academic success, and writing.
Library Research Skills Workshops: The library offers six different 60-minute workshops several times over the course of 10 weeks each semester. For a description of the workshops as well as the workshop schedule go to: www.bakersfieldcollege.edu/library/workshops .
Other Academic Support not listed above including English for Multi-lingual Students, Habits of Mind, Learning Center, Learning Communities, MESA, Supplemental Instruction, and more! Go to the Academic Support website at www.bakersfieldcollege.edu/student/academic-support .
Parking and sidewalk closures: to get to class, tutoring, or other support services you need to park and walk. It's an understatement to say there's a lot of construction on campus with parking lots and sidewalks closing and re-opening, so it's worth your time to check the current status of what lots are open and work out how to navigate around the construction sites safely from the Construction Maps section of the A Better BC website. Other information about parking on campus is on the BC Parking page.
Counseling Department (first floor, Center for Student Success): Crisis Counseling, 395-4689 or 395-4421. Counselors and advisors are able to provide you with guidance in the following areas:
Reviewing your assessment (placement) test results and other information to determine appropriate course options;
Exploring academic and educational goals, and identifying possible educational options;
Developing abbreviated and comprehensive educational plans;
Explaining certificate programs and degrees available at Bakersfield College;
Assisting with identification of transfer options and course requirements for University of California (UC), California State University (CSU), independent and out-of-state institutions, and;
Providing referral information to other student support service programs on the BC and Delano campuses, as well as to other off-campus resources.
In addition to one-on-one advising and counseling sessions, the center also provides you answers to quick questions during peak enrollment times, drop-in advising, New Student Counseling workshops, Educational Planning workshops and transfer-related workshops throughout the Academic year.  Counseling faculty also teach student development courses for educational planning, career development and student success.  Find these courses listed in the online class schedule under "Student Development".

Financial Aid (second floor, Center for Student Success): (661) 395-4428. Scholarships, tuition waivers, vouchers for textbooks for the start of the semester (so you don't start out your classes already being behind). Check out the Financial Aid TV for video answers to all your financial aid money questions. Warning for California Promise Grant (formerly known as BOG Fee Waivers): Students with two consecutive semesters of not meeting academic and/or progress standards will lose their California Promise Grant! See the California Promise Grant webpage for details about these standards. Starting on October 1st, be sure to apply for FAFSA (or Dream Act) & scholarships for next year. Don't forget you must select a financial aid refund preference with BankMobile to get your payments on time!

Student Employment (FACE 16): (661) 395-4402. The Student Employment Department serves Bakersfield College students, graduates and alumni with employment resources for on and off campus opportunities. For those who are not sure what kind of employment to seek, career counseling is offered through the Bakersfield College Counseling and Advising Department. To make an appointment and find additional resources, visit the Career Counseling page. Apply for a job with Jobspeaker. Use the powerful Career Coach service for free to discover majors and in-demand careers and education based on your interests!

Health Center (Levinson Hall Room 34): Provides free urgent care type physical and short-term mental health services for currently-enrolled students who paid their campus health fee (most of you paid this; it's built into your registration fees). Please call for an appointment at (661) 395-4336 or get questions answered by emailing BCStudentHealth@bakersfieldcollege.edu. Health Center hours during Summer Sessions are Mondays through Thursday 8:00 am - 5:00 pm and during Fall & Spring Semesters the hours are: Monday 8 am - 7:00 pm, Tuesday-Thursday 8:00 am - 5:00 pm  and Fridays at 8 am - 12:00 pm (noon). Also, check out the Health Center's Facebook site and the online BC Student Health 101 Magazine.

Extended Opportunity Program and Services (EOPS) (second floor, Center for Student Success next to the Financial Aid Office) is a state funded program offering access and retention services including books for low-income, educationally-disadvantaged students. (661) 395-4351. CalWORKS is also run through EOPS. CalWORKS is a program for parents who are current recipients of CalWORKs public assistance from Department of Human Services and receive support services that include priority registration, book and transportation assistance.

Disabled Student Programs & Services (DSP&S) (Center for Student Success 10) provides services for students with physical disabilities (including temporary disabilities), psychological disabilities, learning disabilities, speech and language disorders, students who are blind or have visual impairments, students who are deaf or hard of hearing, and students with health limitations. Call (661) 395-4334 for more information.

Renegade Pantry: Provides free box of food once per month plus fresh fruit & veggies every Tuesday plus daily bread to BC students in need. In order to take advantage of this service, you can sign up for a food order before the actual day of distribution---see the online forms on the Food Assistance page. Schedule is posted at the Student Life office in Levinson Hall and on the Food Assistance page. Sign-up at the Student Life or online. Delano Campus students sign-up at A&R on the designated dates. Daily bread hours are 8:30 am - 2:00 pm and fresh fruit & veggies hours are noon to 2:00 pm. See the Student Assistance website at www.bakersfieldcollege.edu/studentassistance for updated hours and assistance with clothing & hygiene.

Veterans' Resource Center: Provides a place of respite for our veterans to decompress, enjoy a cup of coffee, use computers, and enjoy the camaraderie of fellow veterans. It is located in the new Vernon Valenzuela building and can be contacted at (661) 395-4312. The VRC holds the Veteran Club meeting every two weeks but since the schedule is continually updated, please stop by or call the VRC for the newest schedule. Jenny Frank is the Veteran Services Manager and Armando Trujillo is the Educational Advisor for Veterans. Email Jenny Frank at jenny.frank@bakersfieldcollege.edu or call (661) 395-4028 and email Armando Trujillo at armando.trujillo@bakersfieldcollege.edu. The VRC is open Monday through Thursday at 7:30 am - 5:30 pm and Friday at 8:00 am - 12:00 pm. Other services for veterans are given on the Veteran Services website at www.bakersfieldcollege.edu/veterans/

Get published in The Grapevine Literary Journal! The Grapevine is an online journal featuring works by Bakersfield College students that have been judged exceptional by faculty. You may submit any work that you have created in a BC class (for example: essays, poems, music, science papers, opinion pieces, communication videos, theater and musical performance, artwork, and photographs). Visit the The Grapevine website for information on how to submit your work and read previous issues. The Grapevine is published every Spring semester at https://thegrapevinebc.com.

Community Resources: A lot of different organizations, agencies, groups available in the community to help you manage child care, provide food and housing, get mental health counseling, prevent suicide, recover from substance abuse, manage anger, find local support groups, get veteran's services, find jobs, get medical help, and more. Most people don't know the support services are available, so spread the word!

In case of emergency on campus, dial 4555 from any campus phone. Non-emergency security number 4554.
Where are Center for Student Success (formerly known as "Student Services") and Levinson Hall? Mind the construction -- Parking and Foot Paths maps.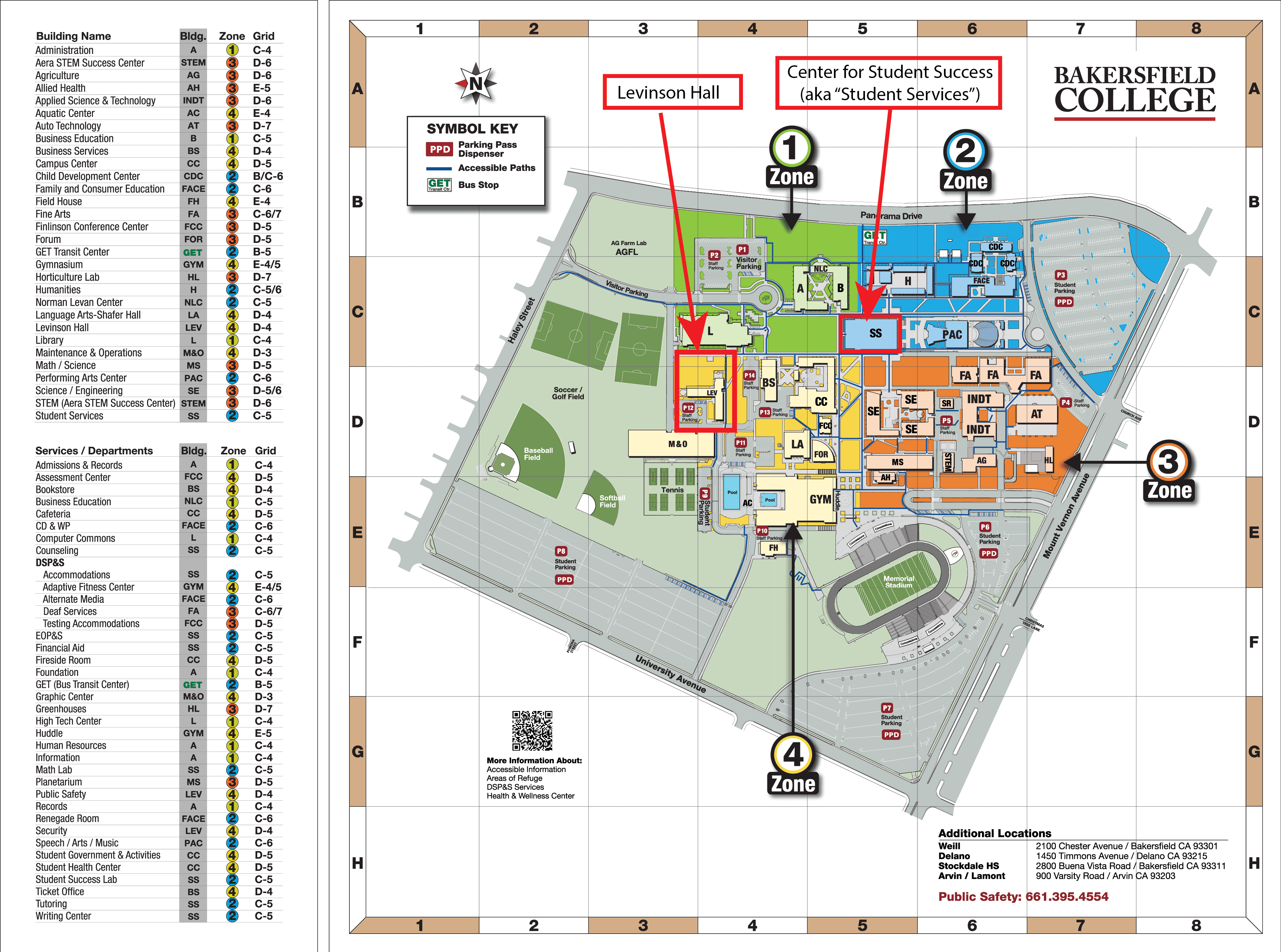 Click the map to view & print the PDF version. Link to regular BC map (without the CC and CSS highlighted and updated with construction restrictions).
last update: February 17, 2020
Adapted from a document by Erin Miller with additions from Kimberly Bligh, Alice Desilagua, Rae Ann Kumelos and Rachel Vickrey
Document author: Nick Strobel